Revolution in data handling
USB sticks are fascinating. It's unbelievable how much data fits on such tiny chips! For comparison: My first PC hard drive for retrofitting weighed about two kilos, had a capacity of 270 MB and cost 780 DM. I was thrilled! But that was about 40 years ago. A USB stick with a hundred times the memory capacity doesn't cost 20 €, today, and can easily be carried away in your wallet.
So far it was often laborious …
Anyone who wants to store files on conventional USB sticks – for example, to protect them from loss or destruction or to copy them to another system or smartphone ("On-The-Go" sticks) – must first search for them in the almost unfathomable depths of the PC file system in a cumbersome and time-consuming manner. In the course of a PC's life, countless photos, videos, pieces of music or audio books, e-books and, of course, typical office documents such as letters, CVs or spreadsheets, presentations and notes are collected on the system. They can be found in download directories, their deep directory trees, smartphone backups, data directories of various application programs or self-created project folders on built-in and externally connected drives. Hardly anyone – especially "hunter-gatherers" like me – can keep the overview here. And after every backup, the unpleasant feeling remains that something important may not have been found and therefore not saved.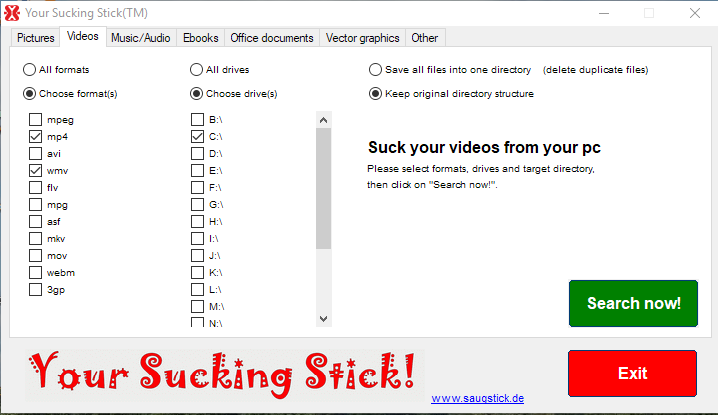 The Sucking Stick™ brings life and comfort
The Sucking Stick™ puts an end to this situation – once and for all. The Sucking Stick™ comes with an absolutely easy to use and incredibly fast program for automated search and file transfer. And that's how easy it is to use: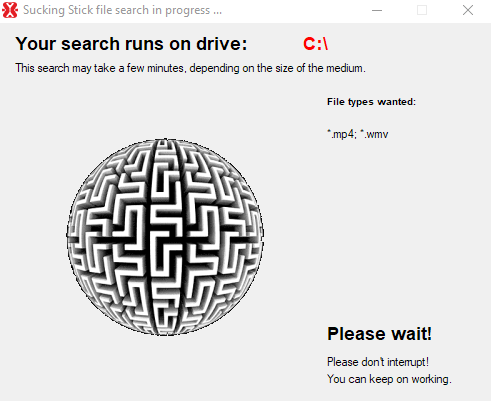 1.) Plug it in!
Plug your Sucking Stick™ into a standard USB port of any Windows* PC.
(*Windows Vista or newer)

2.) Launch the app!
Start the application on your Sucking Stick™. Specify which file types you want (for example photos, videos, music tracks, Office documents) and where to search.

3.) Search and suck!
Let the program search for the files on all desired drives and suck all found files onto the stick with a click.
The Sucking Stick™ doesn't need another program on your Windows PC. It already comes with everything needed and is ready to go without any installation.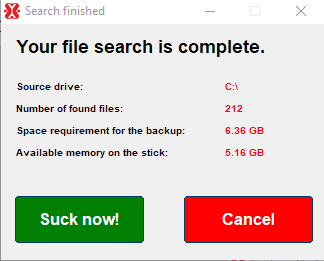 Your advantages:
You save many hours of time
Instead of spending hours searching your entire system for the content you want, let the intelligent Sucking Stick™ app work for you.
You don't miss a thing anymore
The Sucking Stick™ automatically ensures that all the files you are looking for are found – no matter where they are hidden. Of course, the Sucking Stick™ can also be used with different PCs one after the other. By the way, the predefined list of file types in the different categories (pictures, videos, …) can be easily changed/supplemented just by editing an ini file.
You save everything important in an instant and save space
You determine whether the backup of all files of a certain type should be done into a single directory/folder (e.g. named "Pictures", "Videos" or "Audios") on the stick. In this mode, files with the same name and size will land on the stick only once. Different file versions with the same name but different sizes will be renamed automatically. Experience has shown that this procedure saves a lot of backup memory because of the frequent duplicates.
If you wish, the program can also completely recreate the directory structure of your PC on the stick. Then, however, all file duplicates are saved on the stick.
You automatically save all changes during each run
When you run the search/backup program again, the Sucking Stick™ program only sucks changed/added files onto your stick. So you can keep your backup up to date with just a few clicks.
You save a lot of money
Backup software usually costs a lot of money, has to be installed and continuously maintained. Your Sucking Stick™ already has everything you need for highly convenient backups on board. The costs for the program are already included in the price of the Sucking Stick™.
How do you get the Sucking Stick?
You can obtain the Sucking Stick™ from selected dealers. You will find the dealer list here, in short.
In addition, we offer companies the service of equipping their USB sticks with the Sucking Stick™ app. Send us your USB sticks and in a few days you will receive your fully equipped Sucking Sticks™ back.
Of course, it is also possible to customize your Sucking Stick™ apps, for example to integrate your logos, web links or images. Many things are possible very quickly. Please contact us.
And by the way: Don't be afraid of pirated copies! Before each start, the Sucking Stick™ app checks the individual ID of the USB stick and compares it with a stored version. If there are any deviations, the program will refuse its service. Therefore, it is not possible to run this program on any hard disk or on an unknown USB stick.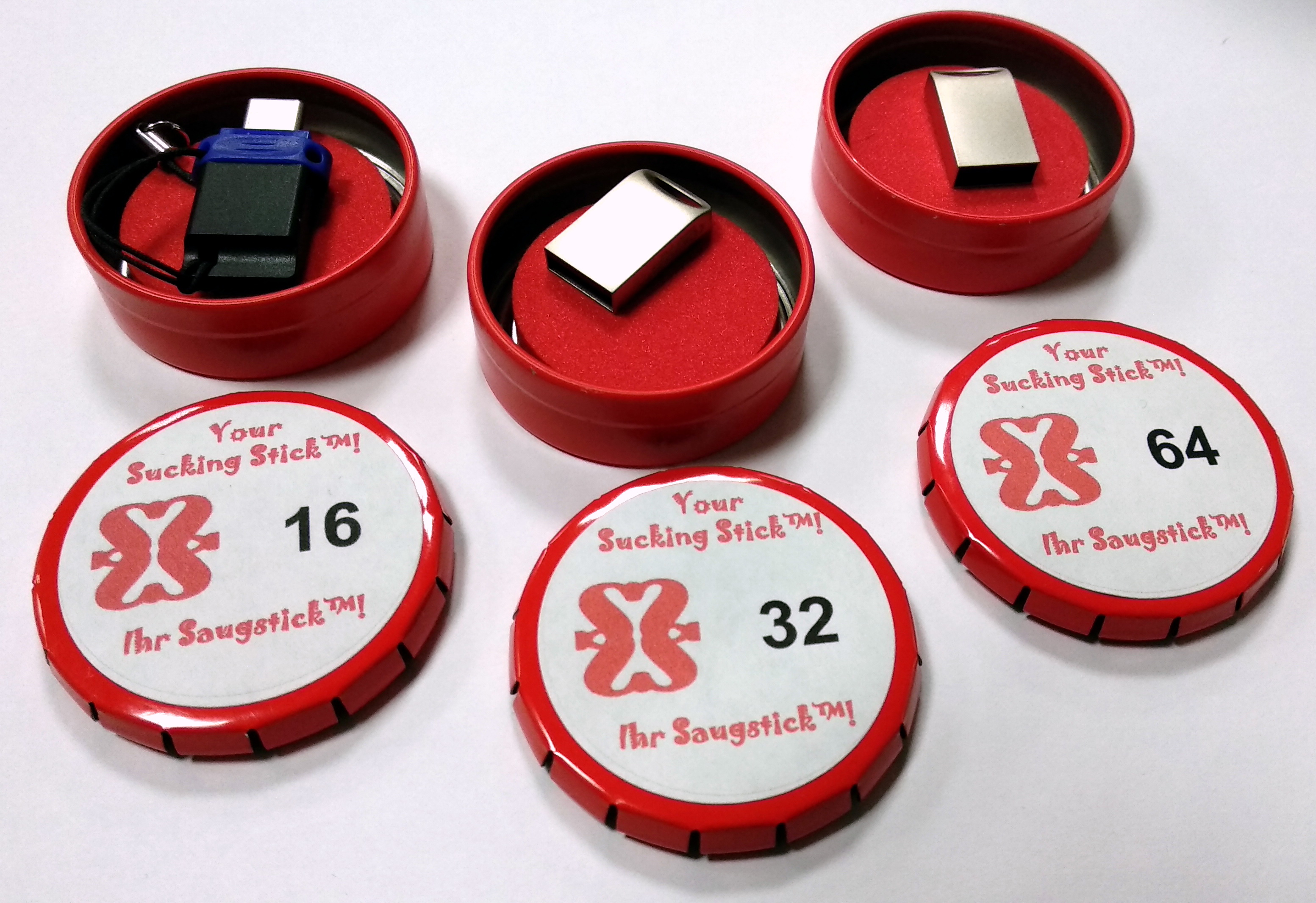 Available in German and English
Currently, the Sucking Stick™ is available in German ("Der Saugstick") and English. Further languages can be added within a few days if needed.
Open for your wishes and ideas
If you have your own ideas about what additional functions your Sucking Stick™ app should have, please feel free to contact us. A lot is possible.